I happened to have an interesting conversation with an individual who spoke a lot about the management of his business and some of the problems he was facing. A short time later, I called him suggesting a cloud-based system I had deployed previously that I believed would significantly help alleviate many of his frustrations. Below is a brief case study summarizing the major issues addressed.
PROBLEM
The client was losing business due to poor communication between its potential and current customers, salespeople, support representatives, and other team members.
The client's salespeople used their mobile phone's contact app to record leads when not in the office and would later manually input these leads into a central database application stored on the company's central office server. Many times, a salesperson would never get around to entering data into the office database and this would lead to confusion if a customer contacted the office. Either the customer was not in the database or any new information about the customer was missing or not updated. Also, if a salesperson happened to go on vacation or leave the company, there was little chance of obtaining any missing information or updated customer interaction leading to potential losses of valuable data. There were no processes in place to mitigate the loss of this private data and no way to monitor whether or not the data was later acquired and used by a competitor.
Adding to the confusion, the client's customers would many times directly contact the salesperson if there was an issue due to their established relationship. This would lead to the exchange of emails between the salesperson and support which would then have to be translated/re-interpreted back to the customer. On the other hand, whenever a support representative did not have up-to-date information concerning a customer, he/she would have to email the salesperson creating the same inefficient process of communication. The client did not have an efficient system in place to analyze and optimize its sales and support processes.
APPROACH
The client needed a private, cloud-based system (CRM/HR Manager) that could be accessed anywhere at any time and also integrated seamlessly with their WordPress website. Among other requirements not listed here, the system had to:
allow for capturing leads through online contact forms and landing pages,
allow salespeople quick and easy access to leads when not in the office,
allow this small team of salespeople to input new leads easily via mobile devices when out in the field,
be private and secure,
allow an external portal for the company's customers to a) view and sign agreements, b) follow a project's progress, c) submit support tickets and d) allow for other forms of communication and collaboration that may come up in the future.
I wanted to deliver a streamlined CRM and administrative experience that was intuitive and required very little training. We all agreed that we would determine success by measuring these key metrics:
1) Change in support tickets being raised on a month-by-month basis.
2) The change in length of time taken for each ticket to be resolved.
From these measurements, we can determine the impact in quantitative terms of cost savings and sales increases. Furthermore, their are qualitative benefits in decreasing employee frustration by creating more efficient workplaces leading to less resistance to management decisions, change and continuous transformation initiatives.
3) Change in sales activity: defined as the change in number of overall leads and opportunities that a salesperson was able to contact each day. From this measurement, we could determine if and/or how the change in activity increases sales and how much time could be better used for additional training and/or developing alternative sales strategies.
SOLUTION
Since the client's website was built using a WordPress CMS, plugins would be used to deliver a customized solution. The two main CRM, HR and Project Management plugins are WP ERP and Projectopia. The list of all plugins needed to execute and integrate with all of the requirements can be viewed in the attached WP Small Business Suite diagram.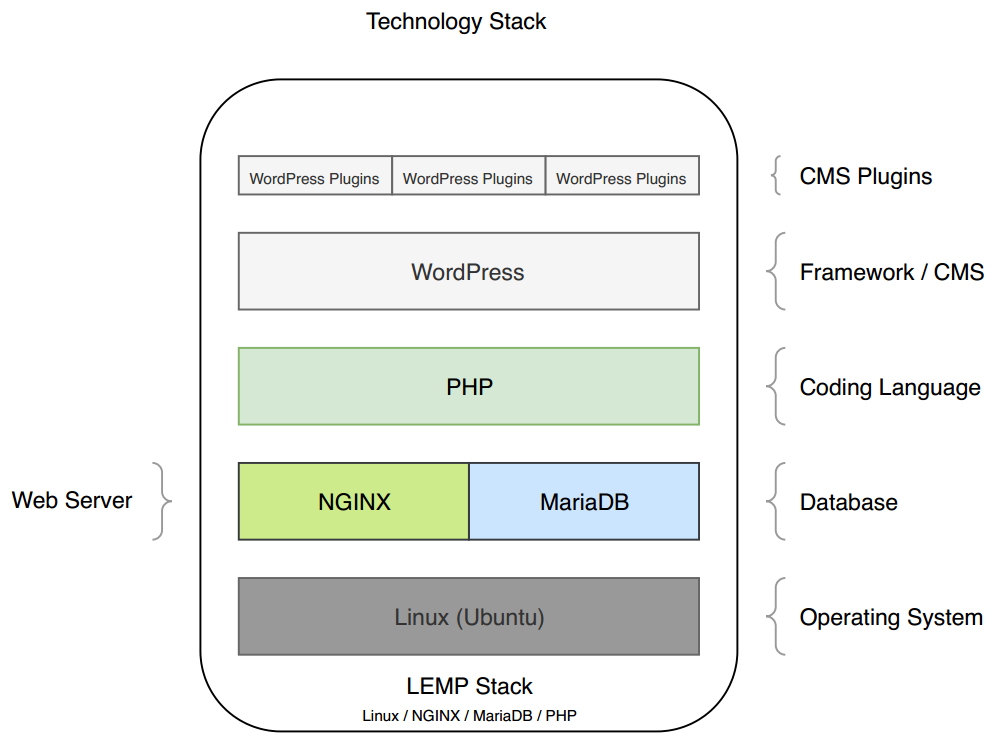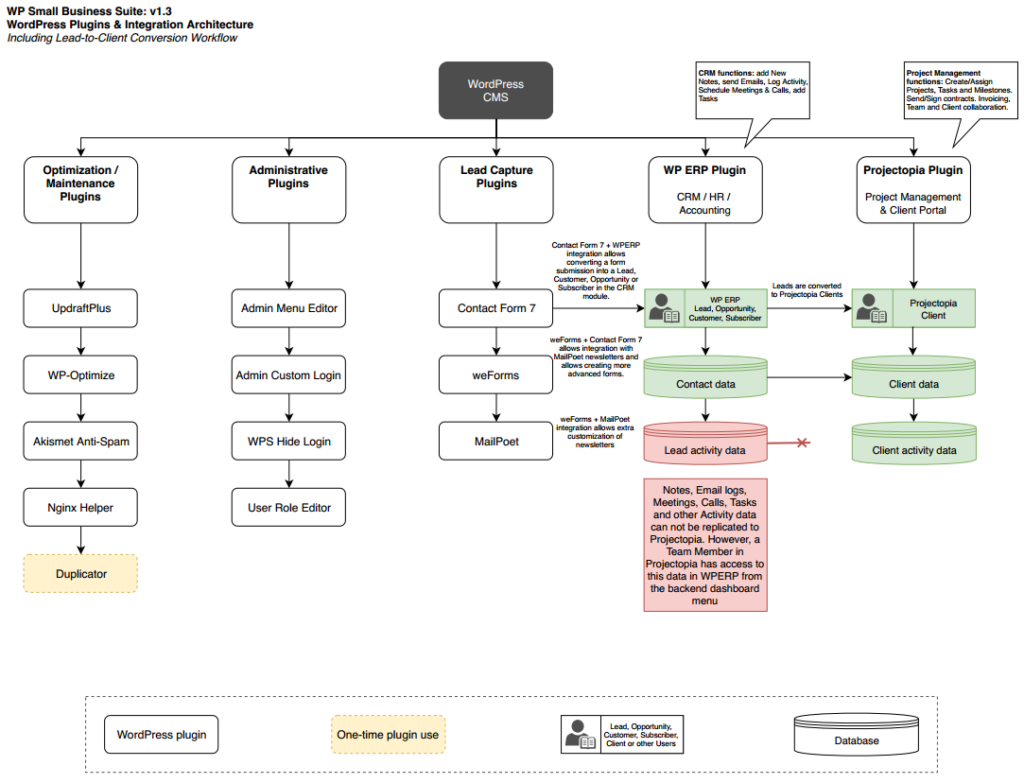 THE END RESULT
The change from the old system to the new cloud-based system went very well. The number of support tickets raised gradually fell along with a dramatic decrease in time taken to resolve those tickets, surpassing success goals by the end of the measuring period. Decreased support bottlenecks translated into higher customer retention thus stabilizing their revenue. As each salesperson's new lead and customer contact data was now entered directly into the CRM from any device, support representatives had up-to-date information where issues could be handled with much greater efficiency. Sales started to increase because the salespeople now had more time to focus on developing their sales pipeline while lowering the distractions of administrative duties.
Sales started trending back up
Realized cost efficiencies through implementing cloud-based solutions
Higher employee morale leads to productive company culture
Positive future growth prospects.
Download/View the Case Study pdf here
This solution has additional functionality not specified above that can be applied to many other use cases. Contact me if you would like to discuss a solution for your use case.